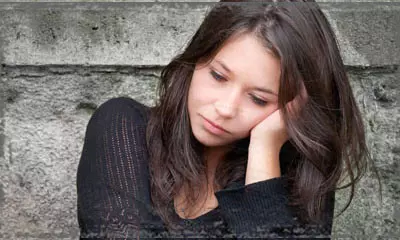 Hi Becky,  As the end of my senior year approached I felt different something had changed. Sure enough, a baby  was growing inside of me. I was 18 and found out I was pregnant 2 weeks after graduating.  I went to a clinic and I was 5 weeks pregnant. I was devastated.  I cried for hours.  I finally told my boyfriend and he was shocked as I was.   We talked about what we should do, "what was best for me", and how my parents would react. I had major plans for my future and a scholarship that I had to keep. I thought I was not going to be able to continue my dreams, that a baby will stop me, but most important I thought about what my dad would say and how he would react. So we concluded, I was getting an abortion, I was not sure if I wanted to go through with it, but I convinced myself that it was going to be the best for me and my baby.
I went to the clinic and was in the waiting room with my boyfriend, my heart was pounding and my mind was debating with my heart, "should I do this?" My name was called and I was taken into a cold room. I sat there for about 30 minutes alone, I began crying and gathered myself up and decided I had to go through with it. The doctor gave me 2 pills that stopped hormones going to the fetus, not allowing them to grow, before she gave them to me she asked me if I was sure I wanted to do this. I paused for a while took a deep breath and said yes. I felt normal, ok. The doctor gave me instructions to take four more pills on Sunday, which will cause the abortion. That Sunday I woke and prayed and took the pills, I felt terrible. I had major cramps.   Not only was I hurting physically, but mentally. After everything happened I felt good I didn't really think about it much. But a week later or so I started dying little by little inside. I regretted it. It's been almost one year and til this day I still cry hysterically and punish myself.  I hate myself for being so selfish, killing my first. I know I could have done it.  I should have listened to my inner voice but I didn't and til this day…I regret it.  And it is killing me inside little by little. I don't know what to do.
Regretful
Gabrielle
---
 Oh, Gabrielle,
My heart goes out to you, and I am so sorry that you are going through this.  I can't even imagine your pain.  Have you told anyone about the way that you feel?  Have you told anyone about how sad you are and how much you regret what you did?  It is so scary to tell other people that you had an abortion.  One of the best things you can do for yourself emotionally is to talk about what happened and the way that you feel.  That is why I am so glad that you have decided to write.  If you were here right now I would give you a big hug and say that everything will be ok.  Do you have a friend who you think would not judge you, but would listen? 
My friend, all of us have made horrible decisions in our life.  You are not alone.  I have spoken with thousands of women who have had an abortion and say they feel just like you do.  They regret their abortion every day of their life.  But the truth of the matter is that God loves you in spite of it all.  He does not see you as a murderer and he wants to help you get through this.  My friend, Lisa, who works with me at Stand Up Girl had two abortions, but she knows that God is keeping her children safe in heaven and one day, because she believes in Jesus, she will be able to see two children.  Your hope is not lost either.  If you believe in Jesus you, too, can see your children in heaven.  God is watching over them and he is watching over you.  I think it is good that you are letting yourself cry; sometimes crying is the best medicine.  Don't be afraid to grieve the loss of your child, and don't be afraid to tell your child and God that you are sorry.  You can be very open with God about all of your feelings; he is there and he wants to comfort you thought this time.
You know, so many women go through anguish after their abortion that there are post abortion support groups across the country.  I would like to refer you to one. They are completely free and confidential.  You can go and talk to a volunteer counselor who had helped other women just like you.  When you are ready, I recommend that you look into this.  You have nothing to lose and everything to gain.  To find a post-abortion support group that is near you, all you have to do is go to www.optionline.org, click on "find a center", type in your zip code, and click "search".  A list of pregnancy resource centers will come up.  Just call the one that is closest to you and ask them about a post abortion support program.  They will know just how to help you and they will be so glad that you called. Here is another number of a person that you can call for help – 1-866-4-my-recovery.  Her name is Stacey and she lives in California.  She has also had an abortion and she helps women just like you all the time.  You can give her a call any time.  She would love you help you. 
My dear friend, I know that you are sad for a time, but there is hope.  You will heal from this.  You do not have to put on a smile and tell everyone that your life is ok.  There is no problem with being sad for a long time about this.  An abortion is not something that you just bounce back from.  Allow yourself to grieve and to miss your child.  God will forgive you and that is all that matters.  There is no one on earth that can judge you for what you have done.  It is in the past and right now, God loves you.
Write back soon.  I would love to talk with you more.