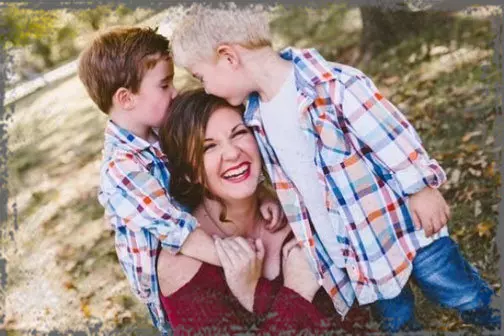 Four years ago, Lauren came home from college for the weekend with an excruciating announcement to tell her parents. By the time she was packing up to head back to her dorm room, though, the right moment still hadn't presented itself.
Time was running out, and Lauren wasn't going to be able to hide the truth much longer.
With a four-hour drive ahead of her and short on daylight, Lauren's mother urged her to get on the road. Finally, Lauren sat down on the floor, took a deep breath, and broke the news.
Midway through her second year of college, Lauren was pregnant. With twins.
"I felt like when I was little, you know, when you lied about something and they know you've lied, so you've eventually got to admit it," Lauren said. "All I could hear was my heart beat at that point. So I finally blurted it out and she just looked at me and hugged me. And then she said, 'Okay, you've got to tell your dad.'"
Adjusting to a New Reality
Growing up in a prominent family of a large church in the Bible Belt, Lauren had never pictured herself having that conversation with her parents. What started out with a feeling of dread, however, turned to relief over time as the family began to process their new reality together.
On her drive back to school, Lauren made two phone calls to tell her grandparents on both sides—both grandmothers had the same reaction: "Oh, Lauren"—so by the time she arrived back at campus, the major players were all in the know.
Now all she had left to do was follow through with a workload that included 18 units of undergraduate work, 25 hours a week on campus in the admissions department and 35 hours a week on her feet at Texas Roadhouse.
That, and adjust to life as a single mother with a high-risk pregnancy that would land her in the emergency room just a few weeks after she told her parents they were soon to become grandparents.
Tweet This: "We need to celebrate those girls who didn't get an #abortion." #prolife
"I just holed up the rest of that year," Lauren said. "I told a couple of my really close friends, an I started showing way sooner than what a normal person would, so it became harder to hide. I never talked to people about it, and sort of made a wall, so nobody ever asked me or confronted me about it."
After wrapping up her spring semester, Lauren—a straight-A student who started her collegiate career as a sophomore—transferred to a college in her hometown and moved in with her parents during last few weeks of her pregnancy.
By the time her two sons, Christian and Caden, arrived in mid-summer—a month ahead of schedule and both under five pounds—Lauren was so immersed in her studies that she brought her schoolwork with her to the hospital during the first month the boys were outside the womb, at the hospital NICU.
"They were there to basically try to learn how to eat," Lauren said. "That was a brutal month, just going back and forth. Because of the pain medication I was on, I wasn't allowed to drive yet, but I was there every day."
Paying it Forward
When Lauren told them she was pregnant, one of the first calls her parents made was to her great uncle, David, who had been a key financial and visionary supporter of a pregnancy center in her hometown since 2000.
Today, when he's not bragging up his status as the boys' favorite uncle to the rest of the family, David relishes every moment with his 3-year-old nephews, driving them around his farm and introducing them to his stock of cattle.
"Our entire family loves these little boys are we are so grateful they received the gift of life," David said. "We are so proud to be supporters of the pregnancy center and appreciate the way they helped Lauren through a difficult time. Our entire family has been blessed by the work of this organization and we look to the future as we watch the boys mature into great young men."
Lauren knew her parents would be in her corner as a single mother, and they have been nothing but supportive of their daughter and grandsons, providing them a home for the first year-plus of the boys' lives while Lauren finished school, began her career, and launched a floral business she has run out of her home ever since.
Moving back to her hometown, Lauren took advantage of the pregnancy center's parenting classes, and the center's executive director was one of the first visitors to come congratulate her while she was recovering in the hospital.
Though it wasn't her first experience at a pregnancy center—she had gone to a location near campus to get a free ultrasound early in her pregnancy—the help Lauren found at the center her uncle had helped build has gone a long way toward her becoming the mom she is today.
"It was great just to have somewhere to go where other people were going through the same things that you were," Lauren said. "They understood the emotional state I was in, and they always made a point to make me feel loved and not shameful or judged. They just always, genuinely, 100 percent meant what they said, and that was very rare for me at that point in my life.
"They just thoroughly radiated care for me and the love of Christ."
Celebrating Life and Courage
Lauren's journey to motherhood hasn't been an easy one, particularly in a small town and home church where any glance can be interpreted in a negative light. Noticing a pattern of strangers peeking at her ring finger while she was pregnant, for instance, Lauren resorted to wearing a fake wedding ring out in public.
"It's not so much the spoken word as the unspoken word—people's body language and the way they look at you when they think you're not looking," Lauren said. "When you're already so hyper-sensitive to that fact you've got a yoga ball sticking out in front of you with no wedding ring on, you notice the stares."
Though she's a natural optimist and was treated with love and acceptance by her family, as well as many in her church and community, Lauren said she wishes more of her peers and fellow church members would have been more vocal in their support of her during her pregnancy.
This side of her rather public unexpected pregnancy, Lauren has been contacted by friends and acquaintances looking for advice and help either for themselves or for the women in their lives who are battling through a similar situation.
In each of those encounters, Lauren is quick to point out the need to cherish the lives represented in each pregnancy—planned or unplanned, married or unmarried.
"There's no way to train a congregation not to stare at someone," Lauren said. "But we need to celebrate the fact that people are choosing life, and when they do, they're sacrificing their pride and their ego, and choosing—ultimately, humiliation. Not that it's humiliating to have a baby, but it's humiliating to be like, 'Look what I did wrong. Look at my sin.'
"We need to celebrate those girls who didn't get an abortion. They didn't choose to take the easy way out, the quick fix. They made that decision to follow through, whether that means adoption or to raise the child on their own."
[Resource from: https://pregnancyhelpnews.com/proud-mom-of-twins-lauren-rejected-the-easy-way-out]