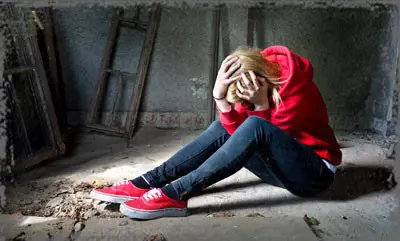 Dear Becky,
I'm glad that I came across this website to see so many girls from all over the country share their stories, whether it was inspiring or sad, and now I'm writing to share my own..
I found out I was pregnant when I was 17, a senior in high school, I was already at the end of my high school career and was graduating in 2 months. When I found out I was pregnant after taking 4 home pregnancy tests and one at a hospital, it was undeniable that there was a little life growing inside me. I had no idea what to do, my boyfriend at the time did not want to keep the baby, his reason was that we weren't going to be able to support it and if I did, he was going to leave me. My mother didn't want me to keep it either, saying that I was going to be tied down… As for me? I wanted to keep it.
The day came when I went in for an ultrasound, the doctor said I was about 9 weeks and when she showed me where the heart is, I just broke down. I didn't know what I want because I didn't want to give my baby a hard life to live, I wanted to be able to support my family and be able to provide him or her whatever they needed…. I was then referred to a local abortion clinic.  Before I actually go through with the surgery, I was scheduled for another ultrasound, but this time, they told me I was actually  15 weeks and a half… Way longer than it should've been. I looked at the baby, how grown it looked like and how much I wanted it, and how I couldn't have it.
I had the abortion at 16 weeks exactly.
It was the most painful thing I have ever had to go through, and it wasn't any physical pain at all, it was an emotional pain. I felt lost, I felt like a part of me has left and I felt no emotions at all. I was so sad, sad to the point where I couldn't even cry.
It's been almost a year now since I had an abortion, and there's not one day I don't think about my baby, what if I kept it, what it I just didn't give a damn about no one else and just kept it… My baby would have been about two months old now. All the what if's just won't leave me.
This is something that I will never be able to live it down. Even though I might have made the right decision in many's eyes, based on the reason how I wouldn't have been able to provide the child, how I would've been a single teen mother, how I would have been tied down and struggling… In my eyes, I could've done it. I knew it deep in my heart back then but all the other voices got to me and made me feel like I couldn't. I want to let those who are in the same situation or a similar situation as me to know that abortion is not something you can just do and forget about, it's an experience, a sad sad experience you will have to live with for the rest of your life.
If you are hesitant for even just one second about having an abortion, please, please, think about it. Think about what YOU want… Not what others want. Think about what YOU are capable of doing, not what others think you are capable of.
---
Dearest JC – hi.  My name is Lisa and I help Becky at the Stand Up Girl with some of her e-mails.  Ohhh JC – my heart raced as I read your e-mail … and then it broke for you.
I do understand your pain and your loss – for you see I also aborted my babies and I regret it to this very day.  There's not a day that goes by that I don't think about my precious little babies and wonder "What if".
Please know that there is healing available and you can access many sources of help on the Stand Up Girl website under "Girl Help".
Thank you so so very much for sharing your heart with us at the Stand Up Girl website.  I know that your letter will make a difference in so many hearts after they read your story.
Luv Lisa