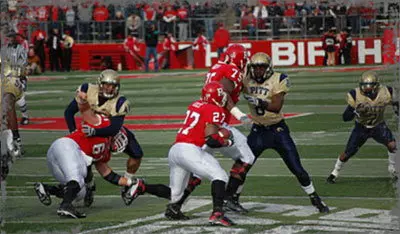 Recently the news has exploded with the Ray Rice case.  Here is an article in case you haven't heard about it yet:
Ray Rice is a football player who was caught on tape hitting his fiance in an elevator. The sad thing about this story is that domestic violence of this type happens a lot and not just to people who are rich and famous.  Domestic violence is common and often not spoken about. 
Many women are unclear what constitutes violence.  A common misconception is that if the abuser apologizes, it really doesn't count as abuse.  That is not true.  Violence and abuse don't go away if some says they're sorry.  Another misconception is that if the abuser apologizes he or she should be given a second chance because that will show that you have forgiven him or her.  But the truth is, you can forgive someone without putting yourself back in a dangerous situation. 
If you are a victim of violence, remove yourself from your abuser as quickly as possible.  Tell someone who is a trusted friend and ask them for help.  Remember that even if someone has used violence against you just once, they are likely to do so again—even if they have apologized. 
Many times in cases of domestic violence, there are cycles of abuse.  The abuser will often take out their anger on their victim, only later to shower them with love, affection, compassion, and romance.  When an abuser does this it is very easy to fall back into a relationship because they are treating you so well.  However, the kindness and affection will soon give way to violence yet again, and the cycle of abuse/affection will continue. 
Along these same lines, many women who seek abortion are victims of domestic violence.  One study estimated that 14% of women seeking abortion had been abused in the last 12 months (http://ajph.aphapublications.org/doi/abs/10.2105/AJPH.2009.178947).  If you are pregnant and have been a victim of violence, abortion is not your only option.  Even though you may feel alone, scared, overwhelmed, and sad, you are not alone and there is help so that you do not have to choose abortion.  You can call 1-800-712-HELP or go to www.optionline.org.  They will help you find a pregnancy resource center that is close to you that can provide you with all of your needs during your pregnancy.  Everything is free and confidential, so you have nothing to worry about. 
Domestic violence is serious and no matter what your circumstances are.  You don't have to continue being abused.  You deserve real love, real kindness, and real respect.  Violence can often be confused for a form of love, but it will never be the same as love without fear of violence.  You are worthy of being treated with dignity. 
http://www.nytimes.com/2014/09/13/sports/football/ray-rice-case-highlights-a-crime-often-overlooked.html?_r=0
Save